Grade 5
Changes people experience at different stages of their lives affect their evolving self-concept
I have had difficulty trying to find a decent G5 Health and Fitness unit. Particularly after the solid G4 Health and Fitness unit, of which you can find here. Stepping up after that unit has been tough. I wanted to make sure this unit was relevant, challenging, engaging, but at the same time not so intense because this is the Grade 5s exhibition year, and the exhibition is not an easy task for these kids. Fortunately, I stumbled across the Meaningful PE model presented by Ty Riddick during the Summer of PDs led by Nathan Horne from iphys-ed.com. Ty's presentation really helped me create a unit that was challenging, enjoyable, but also relevant to the kids. I also got a lot of inspiration from Ted Temertzoglou's presentation from the same Summer PD session. He spoke a lot about the huge benefits exercise and general physical activity has on our mind and body and therefore has incredible impact on social-emotional learning. I hope you enjoy discovering how I made this unit but also please leave any feedback, questions, comments through the chat box.
​
​Note: This was a collaborative unit with the homeroom, Chinese, and PE. Chinese in our school is not only about language but also includes exposing students to the Chinese National Curriculum which consists of health outcomes as well.
​I opened the unit with the usual Moving Time. If you are not familiar, I start a timer of 5 minutes of when the class is supposed to start. If the class starts at 9:10, I start the timer at 9:10. If the class gets there on time they have a full 5-minutes of Moving Time. If they are late, they have less time. This is essentially a way to get them to PE on time.
The Moving Time trolley consists of jump ropes, volleyballs, soccer balls, basketballs, etc. Essentially they play around for 5 minutes to get their body moving and to have a bit of free physical activity after sitting down for a period or two.
After Moving Time, we did a quick review of the previous unit – Invasion Games. I have started implementing a system where the kids populate the whiteboard with the relevant unit information. It's not pretty but it does work! Although, I wouldn't mind making it a bit cleaner and less haphazard. I'm still brainstorming this but any ideas would be welcome!
I use a "Jump up" routine. I ask questions such as, "What's our unit?", "What's our Learner Profile?", "What's our AtL #1/#2?" If the students want to have an attempt at answering the question they jump up. It's an effective way to get kids engaged in our discussions, but also secretly a little bit of plyometrics - get these kids' legs powerful!
Getting inspiration from Ted Temertzoglou's incredibly powerful PD, I started including HIIT Time into the lessons as well. These High Intensity Interval Training sessions are a way to basically jump start the kids' bodies. They are intense but short. I displayed this slide up on the screen.
Credit to Ted for his RPE (Rate of Perceived Exertion) scale where he used breathing / the Talk Test to help kids rate their exertion levels.
​
We did simple shuttle runs to start off HIIT time. My aim was to change HIIT time every week so the kids would be exposed to each activity twice in a week. I was surprised how hard the kids pushed themselves in these. It did help that I was counting down from 30 seconds each time.
​
After 3 sets of shuttle runs, and whilst they kids were catching their breathe, I introduced the unit and the activities for the lesson.
Prior to the start of this unit I met with the homeroom and Chinese. My focus was on physical wellness of the wellness wheel. Although I was focused on physical wellness I was able to demonstrate how each of the domains in the wellness wheel connect to one another.
​
Ahead of time I created a PowerPoint that consisted of 4 activities that were nominated as some of the most popular life-long activities. These activities are as follows: Jump Rope, Yoga, Dance, and Weightlifting. Click on the picture below to access the entire PowerPoint. Just below I have included links to individual PowerPoints that each consist of only 1 activity. I preferred the latter option since it meant the kids could download a smaller file rather than a massive one.
Side note: I included weightlifting in there since many kids have seen me in the fitness room and expressed interest in trying some weights. These weights were reasonably light and were supervised by myself or my TA.
​
I broke the class down into 4 groups using Team Shake and we did our first rotation of the stations. I saved the groupings since they would need to be in the same groups for the 3rd and 4th rotation in the second lesson.
​
After 10 minutes at their first rotation we gathered around where I introduced the kids to the Central idea, driving question, and their project for the unit.
Puberty is quite a significant developmental life change and it is quite important to stay balanced during this time. Therefore, the concept of 'change' played a large role in this unit, as well as the Learner Profile of being 'balanced'.
​
The project for this unit is as follows:
After this discussion we went to our second rotation of the unit.
​
At the conclusion of the lesson we gathered again and briefly reviewed what we learned today and what our new unit is.
The Physical Wellness PowerPoint
The PowerPoint consists of 4 stations: (Click on the image to access a copy of the PowerPoint)
Dance: Acknowledgement to Nathan Short from Dance With Colour for creating such easy to follow and fun dance routines. My kids have loved learning from him.
​
​
​
​
​
​
​
​
​
​
​
Jump Rope: Acknowledgement to fightTIPS from YouTube for this simple video that accessible to my students.
​
​
​
​
​
​
​
​
​
​
​
Yoga: Acknowledgement to Sean Vigue Fitness for his advanced level yoga flow. As well as to dualfit.com for their intermediate yoga flow and finally, Sarah Beth Yoga for her beginner flow.
​
​
​
​
​
​
​
​
​
​
​
Weightlifting: These exercises I chose myself based upon their accessibility.
​
​
​
​
​
​
​
​
​
​
​
These PowerPoints were available on our PE iPads but also on Microsoft Teams so the kids were able to download them and have them on their personal laptops.
After Moving Time we reviewed what we had covered in the previous lesson. We unpacked the keywords in the Central Idea and found out how these keywords connect to our unit. Afterwards, we then reviewed the unit project.
​
This was enough sitting around so we got into our HIIT time where we did shuttle runs again.
​
After the review and HIIT time we broke into our groups from the previous lesson and resumed our physical wellness station rotations.
​
After 10-15 minutes we gathered back and I introduced the Learner Profile of being 'balanced'. We determined how it connected with the unit and then I emphasized the 'why' of the unit. This was quite a heavy slide but it did demonstrate the incredible benefits physical activity has on our health and well-being. We continually touched on this slide throughout the unit.
With this heavy slide introduced we went to our final rotation of the lesson.
​
At the conclusion of the lesson we reviewed what we did and had learned then the kids were dismissed.
We started the lesson with Moving Time and then reviewed the unit and what we had learned so far.
​
"Jump if you know our unit!", "Jump up if you know our learner profile?", "Jump up if you know the 'why' of this unit?" After this review we tried out a new HIIT workout – Shuttle Burpees. Similar to shuttle runs, however at each line the kids need to drop down to the floor and get back up again.
​
For this unit, I have also started including a Bonus Challenge routine I learned from Ben Landers – The PE Specialist.
This gives the kids a bit of a goal or some sort of direction for the lesson. These posters are stuck up next to the door and high-5ed upon leaving class. If a student completes this bonus challenge they get to high-5 the WOW poster when leaving class. If they did not achieve the Bonus Challenge but did everything required of them they get to high-5 the 'Good Job' poster. The 'Keep on Trying' and 'Need More Effort' posters were high-5ed if they fell short on the class' expectations.
​
This lesson was dedicated to letting the kids explore all of the physical wellness stations prior to them needing to make a decision on an area they would like to focus on. During this time, my teaching assistant and I were supervising and engaging with the kids.
​
Towards the end of the lesson I shared a link on Seesaw that brought them to a Microsoft Form that was also a formative assessment. The questions I asked were:
First name and last name

Class

Which physical wellness activity would you like to focus on?

In a full sentence, what does physical wellness mean to you? (I included the Wellness Wheel picture as a guide)

How do these activities (weightlifting, yoga, dance, and jump rope) connect to physical wellness?

How will being physically well now help you when you get older? (I included this graphic to help with this question)
This form was due before their next class so I could get their portfolios ready for the subsequent class.
After Moving Time we gathered in our Green Zone (discussion area, whiteboard, etc.) and did our Jump Up! Routine as a form of unit review. I also included the Driving Question in this unit review:
However, their response needed to include the Learner Profile as well.
​
​After this we got into our new HIIT time activity – Colour Cones. I split the class into 2 groups, roughly 10-11 each. Each kid in one group gets 4 cones laid out in a square about 1.5 meters apart. Each cone is a different colour. These square grids are all the same. Each student stands in the middle of the grid and when I call a certain colour they need to shuffle around that cone whilst facing forward. This is a great agility drill and really gets the heart racing. As well as the brain once I start calling out 4 colours in a row. Each set got faster and then I started including burpees in there as well.
After Colour Cones HIIT time I introduced their Healthy Habits portfolio. You can click on the images below to download them. One is the "Performance Portfolio" which are for the students that chose Jump Rope, Dance, or Yoga. These activities required the kids to create a routine/performance and build upon it each week. The weight lifters were required to continually record their data as they trained.
I put all the kids' portfolios on Microsoft Teams where they could access it readily. This also allowed me to access them and to provide feedback where necessary.
​
For the rest of the lesson the kids started their projects. There were some who were super keen and got stuck into it straight away, whilst others saw it as free time and messed about. I got the struggling kids together and we worked on their relevant projects together to get them started.
​
We gathered a final time, reviewed, then were dismissed.
After Moving Time we reviewed our unit using the Jump Up routine. We attempted to answer the Driving Question again using the Central Idea and Balanced Learner Profile.
​
We did our Colour Cones HIIT time again.
​
I then introduced our first Approaches to Learning skill – Perseverance. I have all the AtLs displayed on the gym wall to make their presence more explicit within their learning.
The picture is to give you an idea of how I set up the AtL wall. However, the text is really hard to read so if you are interested in seeing how I organised the AtLs from the IB PYP into a more relevant PE format you can access my AtL document below.
We unpacked what perseverance is and how it connects to our unit.
​
We then used the rest of the lesson to continue working on their relevant projects.
We started the unit with Moving Time and then reviewed our unit using the Jump Up routine. We then had attempts at answering the driving question using the Central Idea, Learner Profile and now the Perseverance AtL.
​
​
​
​
​
​
​
​
​
​
​
​
​
I wanted to gamify our HIIT times a bit more to make it a bit more 'fun'. Therefore I dusted of an old chasing game - Stuck in the Mud. However, rather than the usual crawling underneath the stuck person's legs, I included planks. Just to really spice it up. If you get tagged, you're stuck and in a plank. For someone to rescue you, you need to lift your hips up into a downward dog and the rescuer crawls under. However, I did get more taggers involved – 5 to be precise – so some people may get tagged at the beginning and hold their plank for 3 minutes unless they get rescued.
​
I gave the kids 10 minutes to prepare their performances before we started filming their first week projects.
​
For the rest of the unit we alternated between practice days and filming days. Today's lesson was filming for week 1. Then next day will be to prepare for week 2 filming, then the following lesson would be filming for week 2. So on and so forth.
​
After filming was complete, I uploaded them onto Teams for the kids to access and to input into their portfolios.
After Moving Time, Jump Up, and answering the Driving Question we did HIIT Time with Stuck in the Mud Planks.
​
Afterwards the kids broke into their groups to continue working on their project in preparation for week 2 filming.
​
​I spent time with those kids who had trouble accessing their portfolios and inputting their videos. I also followed up on those that hadn't completed their week 1 questions.
We followed the usual routine of beginning the lesson however I then introduced our second and final AtL of the unit – Social Emotional Intelligence.
We determined that our emotional health impacts our overall health and we need to have the tools in order to maintain ourselves during times of emotional stress. We reviewed some cooling off techniques that we learned previously such as, 5-7-8, tense and relax, and grounding.
​
The kids then had 10 minutes to prepare for their week 2 filming. The weight lifting kids continued lifting. It was good to see them spotting each other, counting for each other and encouraging each other.
We started with Moving Time, then Jump Up review, and then our Driving Question which now included Persverance and Social Emotional Intelligence.
We got into our new HIIT Time game – Rock Paper Scissors Sprint. See the GIF below to learn how I play the game.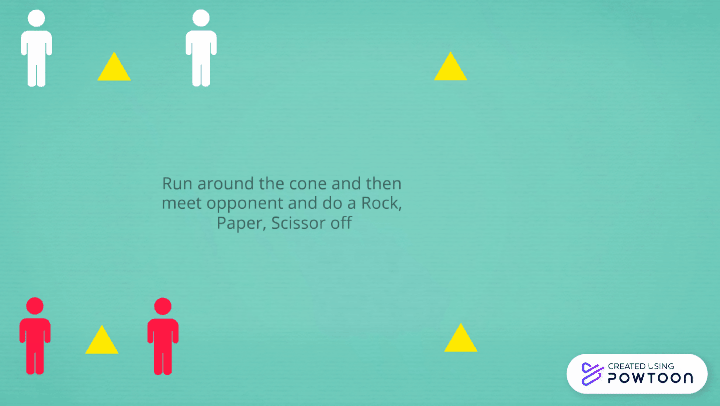 The remainder of the lesson was spent on working on week 3 of their projects.
By this stage the kids were absolutely smashing their projects. The weight lifters were lifting responsibly and were spotting each other really well. Some were making solid strength gains and were genuinely enjoying the process. They were recording their data accurately and noticing improvements. The jump ropers were getting super competent with their skills – one student makes backward crisscrossing look effortless. The dancers, although I am sick of hearing Waka Waka, were thoroughly enjoying the dance and creativity. They even recruited a few non-dancers to join them. Yoga was not as popular but those that did choose it needed a bit more guidance on creating a flow of movements and ensuring they followed their breathe when performing. Unfortunately, this is one activity I didn't spend as much time on – a reflection for next year.
​
After the usual routine of starting the lesson, reviewing, and HIIT time, they were given time to prepare for Week 3 filming.
After moving time and Jump Up we spent a bit more time determining how to best answer the Driving Question.
​
We determined that the goal for this unit is to learn how to be Balanced throughout the changes of our lives. In order to be balanced we need perseverance to be aware of our physical activity levels and to push ourselves when we start becoming unbalanced. Furthermore, we need to be aware of emotions through social-emotional intelligence since we know emotional well-being is intrinsically linked to our overall well-being.
​
Once we clarified that a little bit more the students went off to prepare for their final filming day.
​
Towards the end of the lesson I introduced the Meaningful PE Model to the kids since they'd be using it as part of their reflection.
We broke down each component of the model to determine their meaning. I then showed them how they would be using the model to help write their reflection.
Their reflection would require them to answer the driving question by using 3 components of the Meaningful PE model whilst including the other components of the unit such as the Learner Profile, AtLs and Central Idea. This is a tall ask but by I do believe in a holistic approach to PE and this certainly ticks the cognitive domain of the model.
After Moving Time, Jump Up, Driving Question review part of the lesson we did a quick game of Rock Paper Scissors Sprint again. The kids have definitely gotten a kick out of this super easy yet enjoyable game so I thought we might as well keep it going.
​
The kids were a bit nervous for their final filming but after some reassurance from me but more importantly from their peers they pushed through. I love seeing them encouraging each other and cheering after their performance. Proud teacher moment there.
​
We filmed the final videos and then towards the end of the lesson we reviewed the expectations of the final reflection.
The final lesson of this unit is usually dedicated to giving time for the kids to complete their reflections. Some kids had already completed it as well as using the feedback I gave to them. Others spent time during this lesson to keep working on it.
​
To avoid making this a complete sit-down lesson we usually spend half of the lesson on the reflection where my TA and I can assist where needed, and then the remaining half on Castle. This is an absolute favorite of the kids. I'll put up a video of how I play this game in due course.
​
If any student didn't finish the reflection by this stage then it would need to be done for homework and submitted by the next class.
See below for some reflections written by the students.
As mentioned at the start of this page I had always struggled finding a way to progress beyond the Grade 4 Health and Fitness unit. Warrior Fitness is such a massive event, a huge undertaking for the students and mind you, me and my teaching assistant! However, by using elements of different PDs I participated in from my summer holiday, I managed to create a unit that I felt seemed to really drive home the message of the importance of physical activity in our lives. My students learned a life-long skill, they created performances, and got stronger from this unit. They knew they were experiencing significant changes in their life but a key part of navigating these changes is to remain balanced. This unit will need a few tweaks here and there but overall I think the direction is positive. However, that is my view, if you do feel this could go another direction, please let me know in the chat box below!